About our Cables
What makes a Fuse Chicken cable unique?

What are the differences between your cables?
Traditional charge cables are made from highly flexible plastic or simple braided nylon with minimal additions for strength and flexibility. Use the below Durability and Flexibility values to gauge the best cable for your purposes.
Durability: 1
Flexibility: 10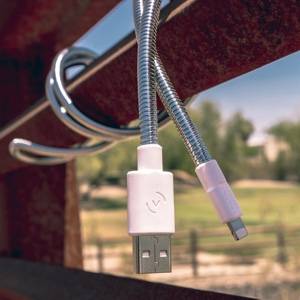 Titan and Bobine cables are designed with dual layers of flexible nickel-plated steel. Each cable has the connector housings permanently fused over the electronics, wires, and metal cable sheath. This creates the Toughest Cable on Earth® that can even withstand a chainsaw.
Most useful for: Pets, Adventure Travel, Backpacking
Durability: 10
Flexibility:  5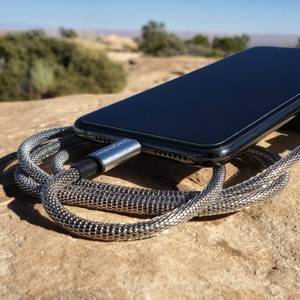 Shield cables are designed with thousands of interlocking stainless steel chainmail. This creates a near perfect blend of durability and flexibility by offering a metal mesh exterior that is highly flexible.
Most useful for: Everyday Charging, Heavy Use Travel
Durability: 7
Flexibility: 9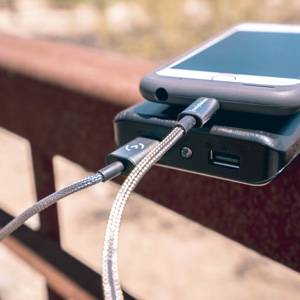 Armour cables are created by weaving thousands of strands of stainless steel to form a flexible metal exterior for your cable. This creates a beautiful blend of aesthetics with additional durability over traditional cables.
Most useful for: Home/Office, General Travel, Extra Length Needs
Durability: 7
Flexibility:  7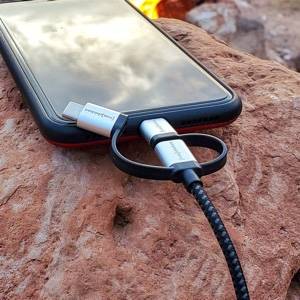 Rugged cables offer improvements to traditional braided nylon cables by utilizing a dual weave nylon that offers additional durability without sacrificing significant flexibility.
Most useful for: Everyday Charging, General Travel, Students
Durability: 4
Flexibility:8